Weitere Informationen
ODE TO CHET BAKER
Ende der weiteren Informationen
Michael Naura once compared Chet Baker's playing to Matisse's late work: "Everything superfluous is gone, we're standing in front of flawless lines." The melodic genius of the trumpet player can hardly be better described. However, unlike the clarity of his art, his life was turbulent, until the mysterious fatal window lintel in Amsterdam thirty years ago.
A date that gives the Frankfurt Radio Bigband the opportunity to bow to the master of the lyrical playing jazzmusician. The Italian piano virtuoso Enrico Pieranunzi played with Chet Baker in the eighties. Their album "Soft Journey" is now traded at collector's prices. Pieranunzi had composed almost all the pieces on it, "Night Bird" became a declared favorite piece of the trumpet player.
Especially for this concert with the Frankfurt Radio Bigband, Bert Joris, by the way one of the most sensitive trumpeters in Europe in our days, will bring these compositions to orchestral format. Our successful cooperation with the Joris and Pieranunzi-Team, which began in January 2018, is thus entering its next phase.
Enrico Pieranunzi, piano
Bert Joris, trumpet & conductor


Friday, October 5th, 2018
20:00 h
Frankfurt am Main
hr-Sendesaal
Bertramstraße 8
60320 Frankfurt am Main


Saturday, October, 6th 2018
20:00 h
Gießen

Stadttheater Gießen
German version and ticket link
Weitere Informationen
49. German JAZZFESTIVAL FRANKFURT 2018: »HUT AB!« – ALBERT MANGELSDORFF @90
Ende der weiteren Informationen
The opening concert of the 49th German Jazzfestival Frankfurt celebrates Albert Mangelsdorff, who would have turned 90 on September 5th. For half a century, the world-famous musician from Frankfurt was regarded as the most important ambassador of jazz made in Germany, and his artistic legacy lives on to this day.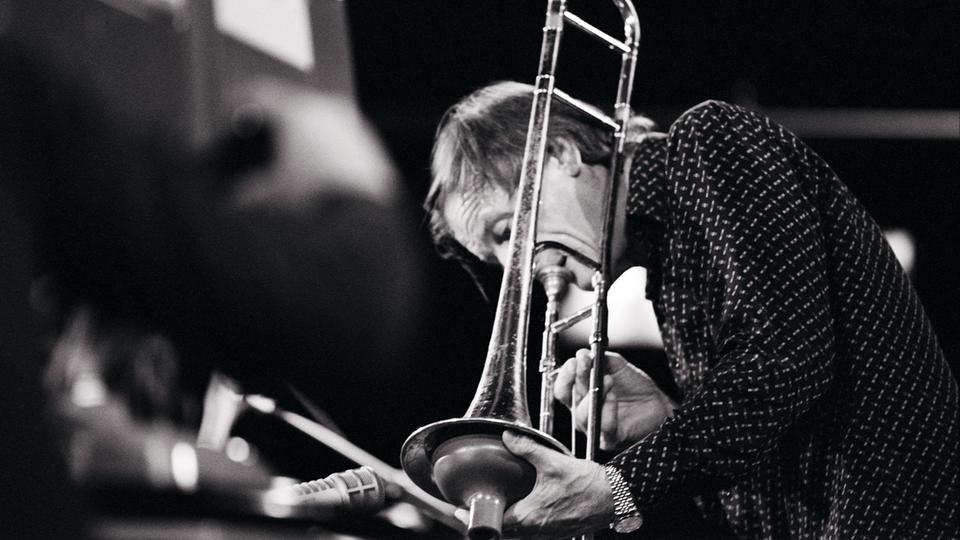 Musicians such as Joachim Kühn, Pierre Favre or Christof Lauer will remember their musical companion Albert Mangelsdorff. The "Trombirds" Nils Wogram, Stefan Lottermann and Samuel Blaser will build new sounds on the foundation laid by their role model Albert. Multi-part playing on the solo trombone, duo, trio and quintet ensembles guarantee a varied concert experience.
Finally, the Frankfurt Radio Bigband will be playing compositions by Albert Mangelsdorff in an jazz orchestral setting, especially arranged by Jim McNeely: "Never let it end!"
Jim McNeely, conductor
Bruno chevillon, bass
Stefan Lottermann, trombone
Samuel Blaser, trombone
Nils Wofgram, trombone
Daniel Humair, drums
Pierre Favre, drums
Joachim Kühn, piani
Christoph Lauer, tenor saxophone

Monday, October 22nd, 2018
20:00 h
Frankfurt am Main
Alte Oper
Opernplatz 1
60313 Frankfurt am Main
German version and ticket link
Weitere Informationen
49. German JAZZFESTIVAL FRANKFURT 2018: THE BIG AMITHIAS – ALLGÄU MEETS INDIA
Ende der weiteren Informationen
Matthias Schriefl may be the only jazz musician whose website can also be displayed in the dialect of his state. There you can read that his music was influenced by the musical culture of the Alps. For his album "Six, Alps & Jazz" he was awarded the "Preis der Deutschen Schallplattenkritik" (German Record Critics' Prize) - one of many awards given to the trumpeter, including the world music award "Ruth". Like no other, Schriefl knows how to think of alpine folklore, jazz, punk and new chamber music together and garnish it with a little portion of slapstick.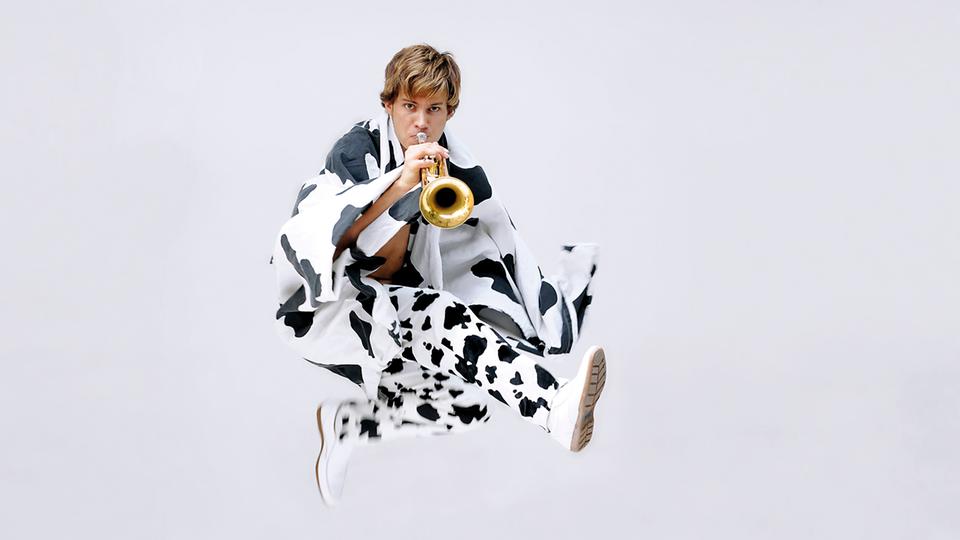 For the 49th German Jazz Festival Frankfurt, the German trumpet virtuoso goes one step further and combines Indian music with his Bavarian roots as he writes a program especially for the Frankfurt Radio Bigband and illustrious guests. Home sounds for the Global Village. One can be courious.
Amith Nadig | bansuri, konnakkol
Vinod Shyam | mrudangam, tabla, konnakkol
Sunaad Anoor | khanjira, konnakkol
Lars Andreas Haug | Tuba
Sebastian Merk | drums, percussion, keyboards, guitar
Matthias Schriefl | conductor, brass instruments, alphorn, vocals

Thursday, October 25th, 2018
19:00 h
Frankfurt am Main
hr-Sendesaal
Bertramstraße 8
60320 Frankfurt am Main