Eddie Daniels & hr Bigband
Swing Low Sweet Clarinet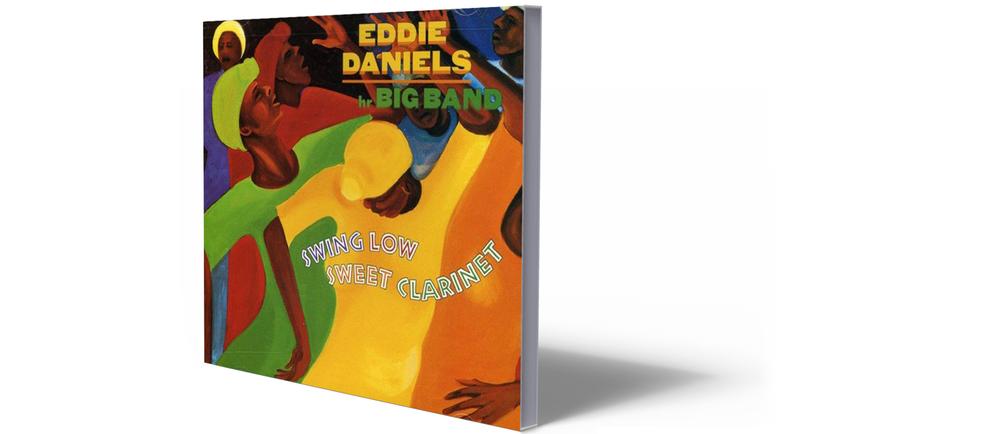 Without going overseas to pad the list (Don Byron, Buddy DeFranco or Ken Peplowski may win some stateside polls and honors; Antti Sarpila and Putte Wickman won't), one can count the number of outstanding contemporary Jazz clarinetists on the fingers of one hand.
Weitere Informationen
Swing Low Sweet Clarinet
hr Big Band

Kurt Bong: conductor
Harry Petersen, Heinz Dieter Sauerborn: Alto saxophones
Wilson de Oliveira, Tony Lakatos: Tenor saxophones
John Oslawski: baritone saxophone
Paul Lanzerath, Martin Auer, Alexandre Malempré, Dieter Grünewald: trumpets
Torolf Molgaard, Peter Feil, Günter Bollmann, Manfred Honetschläger: trombones
Peter Reiter: piano
Werner Vetterer: guitar
Thomas Heidepriem: bass
Wolfgang Haffner: drums
Rainer Schulz: engineer
Produced by Eddie Daniels
Co-produced, mixed and mastered by Axel Gutzler
Executive Producer: Hessischer Rundfunk
Ende der weiteren Informationen
One of the best of them is Eddie Daniels, heirapparent in the Goodman / DeFranco / Tony Scott dynasty of unvarnished swingers who pays earnest homage to the instrument's heyday on Swing Low Sweet Clarinet, ably supported by Germany's world-class Frankfurt Radio (hr) Big Band.
Daniels is no stranger to large ensembles, having spent half a dozen years as a sideman (mainly on tenor sax) in the Thad Jones-Mel Lewis Orchestra and recorded previously with the Jazz Arts Group of Columbus, OH, and even the London Philharmonic Orchestra. He's right at home here too, deftly weaving his spellbinding phrases through and around the hr band's tailor-made arrangements (including two by Jazzmeister Peter Herbolzheimer).
Daniels opens with a tune closely associated with clarinetist Artie Shaw, Cole Porter's "Begin the Beguine", and closes with a Goodman classic, Louis Prima's "Sing, Sing, Sing" (performed in Concert, with drummer Wolfgang Haffner depping admirably for Gene Krupa).
Sandwiched between are studio versions of Goodman's haunting theme song, "Goodbye", And two more of the King of Swing's memorable hits, "Stompin' at he Savoy" and "Stardust", along with former employer Thad Jones "Three in One", Denny Zeitlin's "Quiet Now", and a pair of Daniel's own compositions, The Swing Era-style "Stride Rite" (which suggests at times the standard "This is Always") and the sunny "Waltz for Marabai".

If Daniels has an Achilles heel, it may be that he makes playing virtuosic clarinet seem so preposterously easy. Because of this, he sounds deceptively laid-back an is open to the charge (which has been made) that he is short on soul. To lay that accusation to rest, simply listen to "Sing, Sing, Sing". Comparatively speaking, the other selections may sound almost nonchalant, but on the other hand you'll seldom hear a clarinet played any better. Toss in the hr Big Band as a bonus and slap a "Grade A" label on this one.
Weitere Informationen
Trackliste
1. BEGIN THE BEGUINE
(Cole Porter; Harms Inc./ASCAP)
Arranged by Peter Feil Solo: Eddie Daniels - clarinet

2. STOMPIN' AT THE SAVOY
(Edgar M. Sampson, Chick Webb, Benny Goodman; Robbins Music)
Arranged by Peter Herbolzheimer
Solo: Eddie Daniels - clarinet

3. STARDUST
(Hoagy Carmichael, Mitchell Parish; Mills Music, Hoagy Publishing Co./ASCAP)
Arranged by Peter Reiter
Solo: Eddie Daniels - clarinet

4. THREE IN ONE
(Thad Jones; Kendor Music Inc.)
Arranged by Thad Jones
Solos: Eddie Daniels - clarinet, Thomas Heidepreim - bass

5. QUIET NOW
(Denny Zeitlin; Ludlow Music)
Arranged by Peter Feil
Solo: Eddie Daniels - clarinet

6. STRIDE RITE
(Eddie Daniels; Street Wind Music/BMI)
Arranged by Jörg Achim Keller
Solo: Eddie Daniels - clarinet

7. WALTZ FOR MIRABAI
(Eddie Daniels; Street Wind Music/BMI)
Arranged by Torsten Maass
Solo: Eddie Daniels - clarinet

8. GOODBYE
(Gordon Hill Jenkins; MCA Music)
Arranged by Wilson de Oliveira
Solo: Eddie Daniels - clarinet

9. SING, SING; SING
(Louis Prima; Robbins Music, Mills Music Co., Mayfair Music)
Arranged by Peter Herbolzheimer
Solos: Eddie Daniels - clarinet, Wolfgang Haffner - drums
Musicians: Eddie Daniels - clarinet
Ende der weiteren Informationen