Doppel-CD auf Skip Records
Tony Lakatos & hr-Bigband: "Porgy & Bess"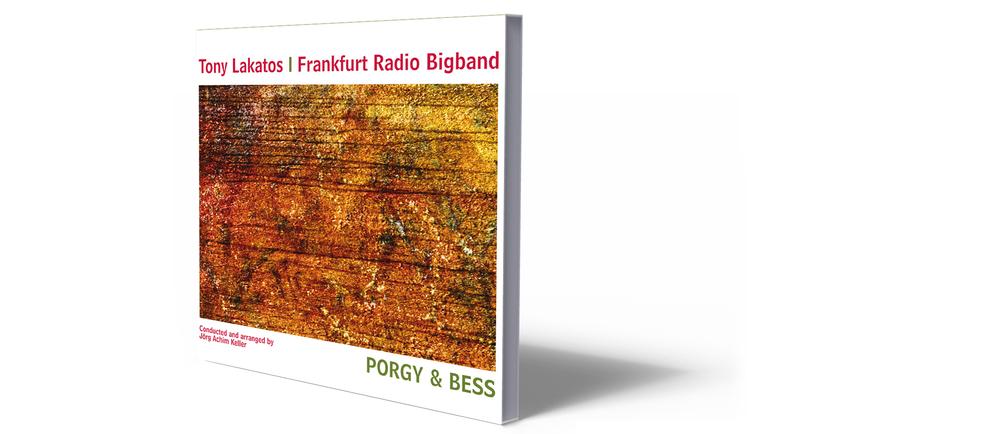 Eine konzertante Version der Gershwin-Oper, von Jörg Achim Keller für die hr-Bigband arrangiert und von Tony Lakatos kongenial als Solist in Szene gesetzt.
Aus den Liner Notes von Bill Milkowski
Weitere Informationen
Porgy & Bess
Tony Lakatos, all tenor sax solos

hr-Bigband, cond. & arr. by Jörg Achim Keller

Skip Records
SKP 9085-2
15,- €

Gesamtdauer
CD 1 35:36
CD 2 51:21

Erhältlich im Fachhandel
Ende der weiteren Informationen
Ein Triumph für das Team Lakatos/Keller. Mit Respekt vor dem Original und einer Vision für frische Ansätze haben der begnadete ungarische Saxofonist und der versierte deutsche Arrangeur neues Leben in ein zentrales Werk der amerikanischen Musikgeschichte gehaucht.
Eines der bedeutendsten "Teamworks" der Jazzgeschichte war die Zusammenarbeit des Arrangeurs Gil Evans mit dem großen Trompeter Miles Davis. Gemeinsam produzierten sie drei großartige Alben, die allgemein als Klassiker anerkannt werden: Miles Ahead (1957), Porgy and Bess (1958) und Skteches of Spain (1959).
Die gefühlsgeladenen Trompetenlinien von Miles, den Evans mal einen "erstaunlichen Sänger von Songs" genannt hat, gehen eine himmlische Hochzeit mit den visionären Orchestrierungen von Gil Evans ein. Ein scheinbares Gegensatzpaar: der schulmeisterliche, zurückhaltende Evans war das Yin zu dem manchmal launischen und immer sehr direkten Yang von Davis. Die Aufnahmen die sie während dieser fruchtbaren drei Jahre zusammen machten, besitzen auch nach 50 Jahren noch eine magische Ausstrahlung.
Nach dem für beide lohnenden Erfolg ihrer Zusammenarbeitan Miles Ahead bemühten sich die beiden musikalischen Partner um eine Interpretation von George Gershwins Oper aus dem Jahr 1935. Porgy and Bess festigte Davis' Rolle als Storyteller und setzte neue Standards für den Gebrauch dramatischen Materials im Jazzkontext.
In dieser mitreißenden Kooperation mit der hr-Bigband packt der ungarische Tenorsaxophonist Tony Lakatos, seit 20 Jahren eine respektierte Figur auf der Europäischen Jazzszene, Gershwin's opus magnum mit kreativem Wagemut an und lädt Jörg Achim Kellers Arrangements mit einigen überraschenden Wendungen auf.
Geboren in Budapest am 13. November 1958, begann Lakatos im Alter von 6 Jahren auf der Violine (sein Vater war ein berühmter Zigeunergeiger). Mit 15 wechselte Tony Lakatos zum Saxophon. Er wurde professioneller Musiker und gewann 1977 einen nationalen Jazzwettbewerb. Nach seinem Studium an der Jazzabteilung des Bela Bartók Konservatoriums zog Lakatos 1981 nach Deutschland und begann eine Karriere als begehrter Jazzsolist.
Auf mehr als 280 Platten hat er als Leader oder als Sideman gearbeitet und auf seinen eigenen Platten spielen so renommierte amerikanische Jazzmusiker wie die Pianisten Kirk Lightsey, David Kikoski und JoAnne Brackeen, die Schlagzeuger Al Foster, Terri Lyne Carrington und Adam Nussbaum, die Bassisten Cecil McBee und Anthony Jackson und der Trompeter Randy Brecker oder die Prager/New Yorker Jazzikone, Bassist George Mraz.
Die hr-Bigband ist eines von Deutschlands innovativsten Jazzensembles. Mit einer kreativen Programmgestaltung, hervorragenden Musikern und ambitionierten Projekten hat sie sich in die Champions League des großorchestralen Jazz emporgespielt. Vom Mainstream bis zur Avantgarde deckt sie das gesamte Spektrum des Jazz ab und wagt Grenzüberschreitungen hin zu Klassik, Pop und Weltmusik. Tony Lakatos ist seit 1993 Mitglied der hr-Bigband und einer ihrer gefeaturten Solisten. Mit dieser CD erreicht diese starke Kollaboration einen neuen künstlerischen Höhepunkt.
Original Liner Notes
One of the most significant teams in jazz history (aside from the legendary team of Duke Ellington and Billy Strayhorn) was the collaboration of composer-arranger Gil Evans and the great trumpeter Miles Davis. Together they produced three magnificent albums -- 1957's Miles Ahead, 1958's Porgy & Bess and 1959's Sketches of Spain -- that are universally acknowledged as classics.
The emotive horn lines of Miles, whom Evans once called "an amazing singer of songs", wedded to Gil's visionary and evocative orchestrations was a marriage made in jazz heaven. A seemingly contrasting pair, the scholarly and soft-spoken Evans was the yin to the sometimes volatile and always hard-spoken Davis's yang. And the recordings they made together during that extremely fertile span of three years toward the end of the 1950s still resonate with an uncanny magic 50 years later.
Following the success of their mutually rewarding collaboration on Miles Ahead, the two musical partners endeavored to interpret George Gershwin's full-length opera from 1935, Porgy And Bess, which further defined Davis as a storyteller and set the standard for the use of dramatic material in a jazz context.
On this stirring collaboration with the Franfurt Radio Bigband (hr-Big Band), the Hungarian tenor saxophonist Tony Lakatos, a respected veteran on the European jazz scene for the past 20 years, tackles Gershwin's magnum opus with creative daring, injecting some surprising twists into the mix, courtesy of arranger Joerg-Achim Keller. With this ambitious two-CD set, his follow-up to 2006's acclaimed Gypsy Colors, Lakatos and the Frankfurt Radio Bigband go beyond jazz to the heady realm of art with a capital 'A'.
Born in Budapest on November 13, 1958, Lakatos began studying violin at the age of 6 (his father was a famed gypsy violinist). He switched to the saxophone at age 15 and became a professional musician when he won a national jazz competition in 1977. After graduating from the jazz department of the Bela Bartók Conservatory in 1979, Lakatos moved to Germany in 1981 and began forging his career as a formidable improviser and prolific recording artist.
To date he has played on more than 280 recordings as a leader and sideman and on his own recordings has featured such great American jazz musicians as pianists Kirk Lightsey, David Kikoski and JoAnne Brackeen, drummers Al Foster, Terri Lyne Carrington and Adam Nussbaum, bassists Cecil McBee and Anthony Jackson and trumpeter Randy Brecker as well as Prag/New York jazz icon, bassist George Mraz.
The Frankfurt Radio Bigband is one of the most innovative German jazz ensembles of our times. Its imaginative programmes, quality musicians and high-profile projects have raised the Frankfurt Radio Bigband to the Champions League of large ensemble music and has set new standards. From mainstream to the avantgarde, it covers the entire spectrum of jazz, as well as crossing over into classical, pop and world music. Thanks to their regular, intensive collaboration to create a tight, homogenous sound ensemble, the Frankfurt Radio Bigband's musicians are ready for any challenge.
A resident of Frankfurt and member of the Frankfurt Radio Bigband since 1993, Lakatos is one of the featured soloists of the city's acclaimed radio orchestra. Their musical kinship reaches a high-water mark with this extraordinary collaboration on Porgy & Bess.
The collection opens with a introspective rubato dialogue between tenor sax and drums that soon develops into some heated up-tempo exchanges that has Lakatos blowing with unfettered bop abandon against Heinz Lichius's kinetic pulse. The full band enters, punctuating the proceedings with explosive, brassy energy as Tony unleashes blistering tenor statements on top of the fray. They segue to "Jazzbo Brown Blues", a swaggering tune which bears hints of other themes to emerge throughout the work. Lakatos reveals a touch of Michael Brecker's influence with his powerful high register wailing on this energized vehicle.
Arranger Keller puts an alluring samba spin on Gershwin's classic "Summertime", which Tony sings passionately through his horn. Trumpeter Martin Auer delivers a lovely, lyrical solo on this relaxed reading, which also features an intriguing fugue-like section for the horns midway through. Lakatos turns in some emotive playing on a haunting rendition of "A Woman Is A Sometime Thing" then summons up some bold tenor work on a unique, jazzy reading of "Here Come Da Honey Man", which is underscored by Lichius's supple brushwork and an "All Blues"-like bass line by Thomas Heidepriem. Keller's arrangement also effectively incorporates some floating counter melodies by flutist Heinz-Dieter Sauerborn. The piece is further distinguished by an outstanding plunger trombone solo from Peter Feil.
The uptempo burner "The Killer" opens with Lakatos and Lichius in explosive Trane-Elvin mode. Tony's ferocious blowing on the intro foreshadows the kinetic flow of Keller's ambitious arrangement for the ensemble. "Gone, Gone, Gone" is handled as a stately hymn that Lakatos soars over effortlessly while the moving, melancholy "My Man's Gone Now" finds him in prime expressive mode, singing plaintively through his tenor while digging deep on some high register testifying. They close out CD 1 in dynamic fashion with a buyouant 6/8 reading of "It Ain't Necessarily So". Tony's robust tenor work sets the tone for this invigorating, rhythmically charged arrangement of the sly theme sung by the character Sportin' Life (portrayed by Cab Calloway in the 1952 Broadway revival and by Sammy Davis, Jr. in the 1959 feature film).
CD 2 opens with a swinging uptempo overture full of intricate cross rhythms and counter melodies that resolve to a graceful fugue for the horns. Keller's clever arrangement of the carefree "I Got Pleny Of Nuthin'" alternately chugs along in 5/4 time and swings in 4/4. Tony takes his time on his solo here, grounding himself in the groove before nonchalantly double-timing the tempo and soaring with Brecker-like excursions into the horn's high register. He unleashes with some of his most passionate and harmonically probing playing over the vamp section at the tag of this ebullient tune.
The dark, dirge-like number "The Buzzard Song" is rendered here by Lakatos and company like a piece from a requiem mass while the tenor player reserves his most emotionally-charged playing for the opera's most romantic number, "Bess, You Is My Woman". "What You Want Wid Bess?" is grounded by a distinctly funky, New Orleans styled second line feel in the rhythm section and is highlighted by a remarkably fluid alto tuba solo from Christian Jaksjo. "It Take A Long Pull To Get Here" opens with some evocative, chamber-like statements from the ensemble before settling into a briskly swinging 3/4 groove that Tony sails over with aplomb. Trumpeter Axel Schlosser also contributes a brilliant solo on this dynamic big band offering that culminates in some bristling exchanges between tenor sax and trumpet.
"Oh, Doctor Jesus" opens with some bluesy invocations before Lakatos and the rest of the horns engage in some earthy call-and-response on the slow-grooving modal theme. The tenor player explores the full range of his horn here and erupts on perhaps his most dynamic and harmonically probing solo on the collection. Then Tony turns in some particularly heartfelt tenor work on a lush rendition of the romantic ballad "I Loves You Porgy", the perfect companion piece to "Bess, You Is My Woman".
For a change of pace, the jazzy "There's A Boat Dat's Leavin' Soon For New York" is rendered as a lively, infectious samba jam. Lakatos's bold tones and creative extrapolations on tenor here combine Michael Brecker's virtuosity with Sonny Rollins's gift for melodic improvisation, a la his irrepressible "St. Thomas" or his ecstatic set-closer "Don't Stop The Carnival". The collection closes on a tender note with a wistful reading of the melancholy "Oh Bess, Oh Where's My Bess?"
This recording of Porgy & Bess is a triumph for the team of Lakatos and Keller. With reverence for the original material and a vision for a fresh take on things, the gifted Hungarian saxophonist and accomplished German arranger have breathed new life into this quintessentially American work. -- Bill Milkowski

Bill Milkowski writes regularly for Jazz Times and Jazziz in the United States as well as for Jazzthing in Germany. He is also the author of "JACO: The Extraordinary and Tragic Life of Jaco Pastorius"" (Backbeat Books)
Weitere Informationen
Trackliste
CD 1

1. Introduction
2. Jazzbo Brown Blues
3. Summertime
4. A Woman is a Sometime Thing
5. Here Come De Honey Man
6. The Killing
7. Gone, Gone, Gone
8. My Man's Gone Now
9. It Ain't Necessarily So
Gesamtdauer: 35:36

CD 2

1. Opening Act II and Fugue
2. I Got Plenty O' Nuttin'
3. The Buzzard Song
4. Bess, You Is My Woman
5. What You Want Wid Bess?
6. It Take A Long Pull To Get There
7. Oh Doctor Jesus
8. I Loves You, Porgy
9. There's A Boat Dats Leavin' Soon For New York
10. Oh, Bess, Oh Where's My Bess?
Gesamtdauer: 51:21
Ende der weiteren Informationen