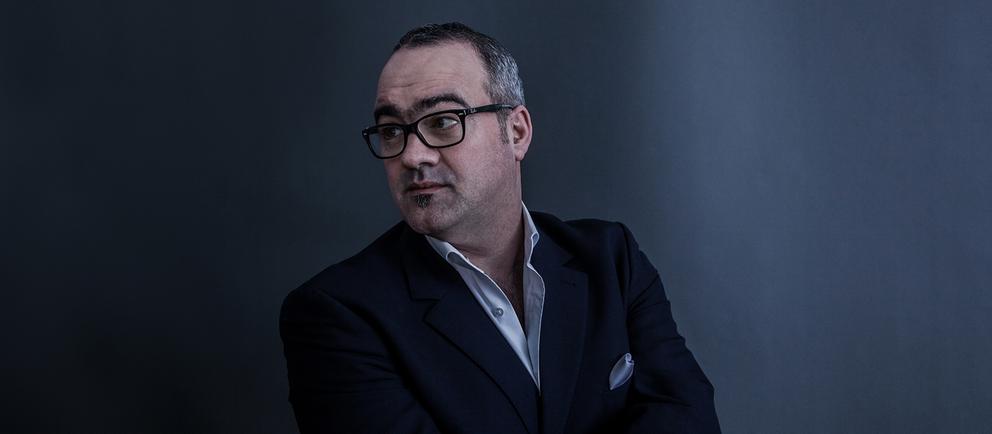 Note: The concerts at hr-Sendesaal are possible in compliance with an extensive spacing and hygiene concept, which includes modified hall plans, new entry and exit situations, and the waiving of breaks and catering. For more information, please download the pdf Hinweise zum Hygienekonzept des Hessischen Rundfunks [PDF - 546kb].
Weitere Informationen
SWINGING CHRISTMAS
Ende der weiteren Informationen
Even if the name seems to indicate an American artist, Jeff Cascaro is one of the exceptional German talents among the local jazz singers. A fact that already brought him the professorship for jazz singing at the Hochschule für Musik "Franz Liszt" in Weimar 20 years ago. 
His experience as a singer ranges from soul and jazz projects with musicians such as Joe Sample, Klaus Doldinger or Paul Kuhn to numerous guest appearances with renowned big bands throughout Europe. The likeable singer from the german Ruhr region has also shared the stage with pop and rock stars such as the "Fantastischen Vier", Ute Lemper and "Guano Apes". 

At Christmas, he will be a guest of the Frankfurt Radio Big Band once again - and "swing" you in the mood for the winter holidays. There is also another special guest to welcome as a speaker. A living Hessian acting legend: Walter Renneisen. 
German version an ticket link.
SWINGING CHRISTMAS

Jeff Cascaro | vocals
Walter Renneisen | speaker
Jörg Achim Keller |  conductor 

Bad Nauheim, Jugendstiltheater

Friday, December 17th 2021
6 p.m. & 8 p.m.

Saturday, December 18th 2021
6 p.m. & 8 p.m.

Tickets each 24,- €  
Weitere Informationen
SWINGING CHRISTMAS
Ende der weiteren Informationen
Anyone who has ever sought out a "Swinging Christmas" concert by the Frankfurt Radio Big Band and knows that in addition to the swinging arrangements, the spoken word is also very important. Hessian actors and actresses perform together with the band and their soloists and read Christmas texts that literarily round off the special experiences of the sucessfuf concert series.
This year, one who has long since achieved cult status in Hesse will have his say: Walter Renneisen. Actually born in Mainz, the actor is today one of the ambassadors of Hesse. Born in 1940, the 80-year-old is tirelessly on the road as a "one-man ensemble". Wheter "Der Kontrabass" by Patrick Süßkind, his show "Deutschland, Deine Hessen", everywhere he is more than welcome and effortlessly fills the halls of the country.

Look forward to a special pre-Christmas evening with Walter Renneisen, the Frankfurt Radio Big Band and as guest soloists: singer Jeff Cascaro.

SWINGING CHRISTMAS

Jeff Cascaro | vocals
Walter Renneisen | speaker
Jörg Achim Keller |  conductor 

Frankfurt, hr-Sendesaal

Tuesday, December 21th,
6 p.m. & 8 p.m.

Wednesday, December 22th,
6 p.m. & 8 p.m.

Tickets each 24,- €  

(069) 155-2000 
hr-ticketcenter.de